Frequently Asked Questions
Q
What benefits can I expect?
A
You are entitled to three basic benefits:
Wage Benefits are payable to you at the rate of two-thirds of your weekly wage. This is usually computed by averaging your wages for the 13 weeks before your accident. The maximum benefit is $675.00 per week. There are other ways to determine your average weekly wage (AWW), so please ask. There is no cost of living increase of weekly benefits after the amount is determined. Remember, weekly wage benefits are not payable to you until the authorized treating physician has placed you on a no work status. Wage benefits may also be started if the doctor puts you on limited or light duty and your employer declines to provide limited or light duty work for you.
Medical Benefits are payable by your employer and their insurance company. There is no deductible for you to pay. The doctor or hospital should not bill you directly. Medical benefits include mileage to and from the doctor and prescription payments. Please let us know if you are billed for medical expenses. Effective July 1, 2013, all medical benefits will last for a total of 400 weeks (7.69 years), unless a case is deemed Catastrophic under O.C.G.A. 34-9-200.1.

Permanent Partial Disability: When your doctor returns you to work and you are as well as you can get under modern medicine, your doctor should, but is not required to, give a PPD disability rating that will provide an end benefit to you. See O.C.G.A. 34-9-263 for more information.

Q
When will I get benefits?
A
The insurance company has 21 days to investigate your case. In about 75% of the cases the insurer is on time, but they can be slow to investigate the matter and start your benefits. In the situation where the insurance company refuses to pay your claim, it could take us six months or longer to get your benefits started. The insurance company is not required to pay you for the first week out unless you have been out for the first 21 days straight. Remember, your authorized treating physician must have you on a no work status before you can receive a weekly disability check. The insurance company may start paying benefits if the authorized doctor places you on light or limited duty and your employer declines to offer such light or limited duty. The issues can be complicated, so please ask for further information.

Q
What if my employer refuses to pay my benefits?
A
If the employer and their insurance company refuse to pay your medical and wage benefits we can ask for a hearing before an Administrative Law Judge. The Hearing process will be scheduled about two months from the date that we ask for a hearing and is very often rescheduled a second or third time. It could take four to six months to get a hearing, so it is important for you to be patient.

A
Your employer is required to keep a posted panel of doctors. This panel is usually located next to a time clock or in a break room. In order to get medical bills paid by your employer, you must go to one of their panel doctors. On only one occasion you can change from one panel doctor to another. If the employer has no panel, then you should be able to go to the doctor of your choice. It is extremely important for you to find the panel at the employer and get the names of the doctors and hospitals on it and supply them to us.

Q
Do I get paid for prescriptions and mileage to the doctor?
A
You are entitled to 40 cents per mile going to and from the doctor, hospital, pharmacy, physical therapy, X rays, or other medical related appointments, and if you keep your parking receipts, you can get reimbursed for those, too. You must submit your mileage within a year of using them. Many insurance companies will set up an account at a drug store for the prescriptions given by the authorized doctor. If you pay for a prescription, send a copy to us with the bill and we will send it to the insurance company for your reimbursement.

Q
What can I do to help my case?
A
In addition to being patient, there are four things you can do to help your case:
Stay in Touch with Your Lawyer. Call every time you see your doctor and try to get a written work status opinion every time you see the doctor.
Be Careful Who You Talk to About Your Case. If someone calls, tell them to call your lawyer.
Find Out About the Panel of Doctors. Go to your employer and ask about the panel and see if you can find it. Please call us about your findings.
Make sure you tell all medical providers that you are covered under Workers' Compensation and give them your Workers' Compensation insurance information.
Q
Is there a time limit for filing my claim?
A
Yes. You must report your injury to your employer within 30 days. In addition, if you haven't received a weekly disability check, then you must file a claim with the State Board of Workers' Compensation within one year of the date of accident, or if you have continuous medical treatment, the claim must be filed within a year of the date of last remedial (treatment of injury) medical treatment. If you have received a weekly check and the insurance company has stopped paying you because you have returned to work or your doctor has returned you to normal work, it will become difficult or impossible to obtain additional benefits for you after the expiration of two (2) years. The issue is complicated, for further information, contact your lawyer.

Q
Can I sue my employer for my injury?
A
No. Georgia law makes it impossible to sue your employer for your injury. Your employer only has to pay Workers' Compensation Benefits and you cannot receive compensation for pain and suffering. If you are injured by a person other than your employer or a co-employee, you may be able to sue that person. The rules are technical, so please ask us if you have a question.

Q
Can I get a trial jury to settle my case?
A
No. There are no jury trials under the Workers' Compensation procedure. Hearings are held before an administrative law judge and they are held in various locations throughout the State. The issues are related to the three basic benefits to which you may be entitled and it usually takes 4 to 6 months to get a hearing. Be patient. You cannot have a Hearing to get a settlement. An insurance company cannot be forced to settle your case. Your case only settles when it makes sense to the insurer economically.

Q
Can I borrow money from my lawyer?
A
No. Georgia Law does not allow a lawyer to loan money to his client. A lawyer may advance some expenses but he cannot lend his client money.

Q
What if my weekly check is late?
A
You should contact us immediately and also do your homework. Keep a record of your checks and the date you receive them. Save the check stub and the envelope. If the check is not mailed by the last day of the weekly period, then it is considered late and we can get you a 15% penalty. Many times the insurance company will send your check but it will get lost in the mail. Before the insurance company will mail another check, they will have to stop payment and this usually takes a minimum of ten days from the date they mailed it. Please try to keep money in reserve for late checks.

Q
How do I pay my lawyer?
A
All fees over $100 must be approved by the State Workers' Compensation Board. Our fee is 25% of the settlement or 25% of the weekly check if we have to take action to get your benefits started.

Q
How long will my weekly checks be paid?
A
The length of time depends entirely on your doctor. If he has you completely off work then the employer and insurer will be required to pay you up to 400 weeks. If the doctor sends you back to normal work, the insurance company will give you ten days notice and stop your weekly check. Your entire case rests in the hands of your authorized doctor. In other situations the insurance company can reduce your weekly check one year after the doctor returns you to light or limited duty and only when your employer offers no light duty work. In some cases, the Workers' Compensation Board will determine the case Catastrophic and in that event you could qualify for lifetime benefits. The Catastrophic determination requires the loss of two eyes, an arm and a leg, or two arms, or two legs (O.C.G.A. 34-9-200.1.). In addition, a severe neurologic injury can cause a Catastrophic designation. Check with your attorney about the definition of Catastrophic. Qualifying for Social Security Disability may result in your case being determined Catastrophic.

Q
What does my attorney handle for me?
A
Unless we have a contract specifying otherwise, we only represent you in your Workers' Compensation case. We do not handle discrimination cases or cases under the Americans for Disability Act. We have no expertise in Social Security cases or Wage and Hour cases.

Q
What happens if my authorized doctor returns me to light duty work?
A
Call us immediately and let us know! Do not go back to work until you talk to us. There is a special procedure under Georgia Law that requires the employer to obtain in writing from your doctor exactly what limited or light duty you can do. We call this a 240 procedure and they must give you ten days notice of the job offer and you are given 15 days to try the job. You must try the job for one full work day or at least 8 hours. Normally, if you determine that you cannot do the job for 8 hours or one work day, then you should be able to quit and the insurer should restart your weekly benefits. The insurance company will then ask for a Hearing before an Administrative Law Judge to re-stop your benefits. The concepts are complicated, so please ask us about it. Remember that the employer and insurer do not always follow the law and it could take some work and time to get your benefits restarted. See O.C.G.A. 34-9-240 and Board Rule 240.

Q
What happens if my authorized doctor returns me to normal work?
A
Your employer and their insurance company will suspend your weekly benefits within 10 days notice. There is really no requirement for your employer to offer you a position after the doctor has returned you to full duty. This should explain to you the importance of having a good, caring doctor.

Q
What if I return to light duty or limited duty work but make less money?
A
If you make less money because of your injury and are on light or limited duty, you may be entitled to two-thirds of the difference at a maximum of $367.00 per week. For example, if your salary averaged $400 per week before the accident and because of your injury you are on limited duty and only make $200 per week, you would be entitled to two-thirds of the difference or $133.33 per week. The maximum benefit you can receive is $367.00 per week.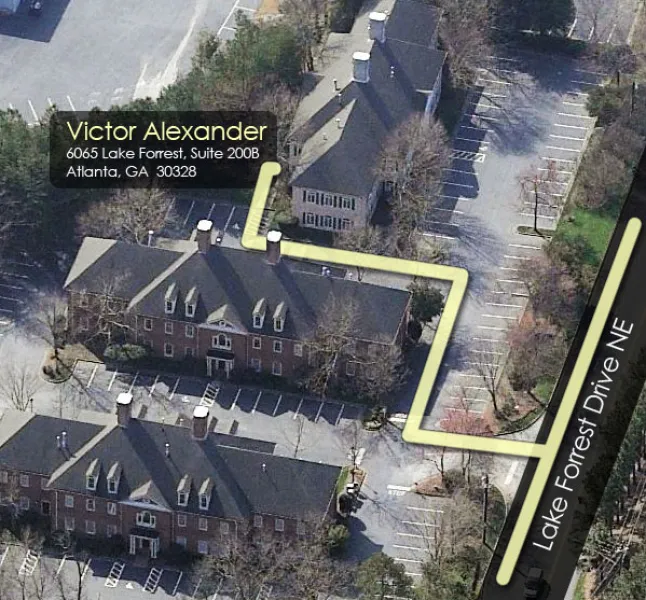 Directions to the Office
6065 Lake Forrest Drive, Suite 200B,
Atlanta, Georgia 30328
Take the intersection of I-285 and Roswell Road exit (Exit 25). The intersection is situated halfway between I-75 and I-85 on the NORTH end of the perimeter (I-285). Follow I-285 to Exit Roswell Road (Exit 25), headed NORTH outside the perimeter. Follow Roswell Road to Hammond Drive and turn LEFT. At the third light, take a RIGHT onto Lake Forrest Drive. Drive approximately 500 feet and turn into Lake Forrest Office park on your RIGHT. Take immediate RIGHT and 6065 building is last building on LEFT.

Additional Questions?
We will be more than happy to answer any additional questions related to the legal aspects of your case on your next visit to the office. Please remember, we are your lawyers and can offer you expertise only in this area. We can only offer you expertise in the area of Georgia Workers' Compensation law.
Send us a message or call us now at 404.815.1776!